7308 Angel Fire - Huge Backyard, Central Location
Furnished 3 Bedroom / 2 Bathroom Home in Plano, TX for Temporary Corporate Housing
Welcome home to this 3 bedroom, 2 bathroom home that is centrally located on a quiet street in Plano TX. 
Designed to help families who need, short- and mid-term temporary housing during insurance claims (water, hail, fire damage) or corporate housing during job relocation.
The functional layout is ideal for families with young children and pets. The large, oversized backyard has a patio, extensive lawn, and even a covered gazebo. Great for dogs or just enjoying the Texas evenings.
The house is fully provisioned with all furniture, appliances, bedding, towels, and kitchenware. All services (Internet, utilities, lawn) are included in the monthly lease.
Let us know how we can help you. Contact Us Now.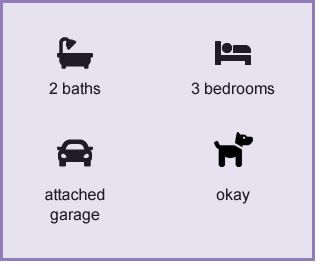 Photo Gallery
Click an image to see full screen view and begin a full tour.
Highlights and Key Features
Oversized Backyard w/ Gazebo
Unusually large backyard with patio and gazebo in back. Relax and enjoy!
Fully Provisioned Kitchen
Bright and open kitchen with granite countertop and full set of kitchenware
High-Speed Internet
Fast Internet for optimized work from home and entertainment streaming
Family-Friendly Interior
Large living room with TV along with multiple dining areas and work area if needed
Bed Linens & Towels
Two sets of bed linens and bath and hand towels provided
Pet-Friendly Fenced Backyard
Large, fully-fenced backyard is great for dogs. Long walking trail nearby
Privacy & Security
Single-family home on quiet street with attached 2-car garage and gated drive
Quiet, Central Location
Central Plano location near business offices, shopping, and schools
All Inclusive Pricing
Monthly lease includes all utilities (water, electricity, gas, heat, A/C, internet) & lawn care
Availability Calendar
Check availability and submit an inquiry now!
Inquiry & Information Request
Please fill in the form below and submit your inquiry. Or call
469-626-3214
.