5912 Richwater - A Spacious North Dallas Oasis
Furnished 3-Bedroom / 2-Bathroom Home in North Dallas, TX
This tranquil single-story home features expansive 12-foot ceilings and an abundance of natural light from the large windows and skylight. Relax in the massive living room or enjoy the backyard retreat, complete with thoughtful landscaping, flagstone patio, and koi pond. The split bedroom layout has a large master, an abundance of space, and a spa-like bathroom suite. Pet friendly, fully furnished and stocked with all you'll need with a spacious kitchen with loads of baking and cooking extras. This home's ideal North Dallas location provides convenient access to Plano, Dallas, and Frisco. Let us know how we can help you experience a stress-free stay. Contact Us Now.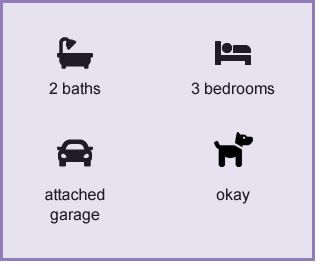 Photo Gallery
Click an image to see full screen view and begin a full tour.
Highlights and Key Features
Spacious & Airy
Majestic 12-foot ceilings. Floor-to-ceiling windows and skylight flood the home with natural light.
Fully-Provisioned Kitchen
Large, well-appointed kitchen. Plenty of cupboard space & modern stainless-steel appliances. Full set of cookware, utensils, glassware & more!
High-Speed Internet
Fast connection for optimized entertainment streaming or working from home
Relaxing Santa Fe Design
Recently renovated and well-curated with Santa Fe Oasis design elements, providing southwestern charm and warmth
Bed Linens & Towels
Two sets of premium bed linens per bed. Multiple sets of plush bath and hand towels
Pet-Friendly
Fenced backyard located near long walking trails provide plenty of opportunities for outdoor exercise and leisure
Large 2 Car Garage
Attached garage with room for 2 cars. Even EV power outlet for electric car!
Ideal Central Location
Conveniently located near major highways (NDT, Bush) in quiet, peaceful subdivision for quick access to Plano, Frisco, and Dallas
All Inclusive Pricing
Monthly lease includes all utilities (water, electricity, heat, A/C, internet, and lawn care)
Availability Calendar
Check availability and submit an inquiry now!
Inquiry & Information Request
Please fill in the form below and submit your inquiry. Or call 469-626-3214.