ANGR Properties is a boutique housing provider that specializes in temporary housing solutions for families who need short-term accommodation in Plano TX, Allen, North Dallas and surrounding areas. 
Temporary housing unlike permanent housing or traditional unfurnished rentals is structured for month-to-month stays. The facilities are fully-furnished (furniture, beds and linens, etc) and provisioned with appliances and culinary utensils for cooking and eating in. There are many options for temporary housing including extended-stay hotels, corporate apartments, townhomes and single-family homes.
Our housing inventory is focused exclusively on single-family homes. We believe single-family homes provide the best experience for families especially those with children and pets. 
Compared to alternatives such as apartments or extended stay hotels, our homes provide the space, comfort and privacy your family will relish. Located in quiet and safe neighborhoods, you'll experience that "feels like home" vibe during your temporary stay.
Whether your family is moving to town (corporate housing), displaced due to house damage (insurance housing), or just needs a comfortable short-term spot to call home for a while (between housing), ANGR Properties is known for its abundant home provisioning and personal service.
Temporary Housing Services Provided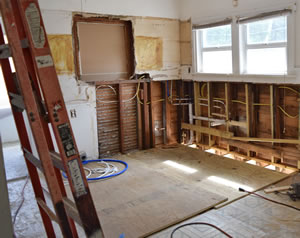 Insurance Housing
We provide single-family homes to families who have sustained damage to their home that makes them uninhabitable. Homeowner insurance policies have a provision that covers the cost of temporary accommodation for the 2 to 6 months and longer repair time. Learn more…
Corporate Housing
Our pet-friendly, single-family homes are centrally located in Plano, TX and North Dallas. They provide an ideal solution for families who are moving to the area during job relocation and need temporary accommodation for 1 to 3 months. Learn more…
Between Housing
"Between" housing is a term we've coined to cover other short-term, temporary housing needs. Examples include home renovation; quick home sale; or extended family visit. Families who need 1 to 2 months or longer will have a more enjoyable experience than in a hotel. Learn more…
Corporate Housing Property Management
We offer corporate housing property management services to single-family property owners. Owners will enjoy greater cash flow and superior guests in a corporate housing rental model managed by ANGR.
Inquiry & Information Request
Please fill in the form below and submit your inquiry. Or call 469-626-3214.