7300 Augusta - Spacious Layout, Gorgeous Views
Furnished 3 Bedroom / 2 Bathroom Home in Plano, TX.
This gorgeous home provides comfort, spectacular views, and ample space for families who want a bit more room. The professionally-curated interior enhances both functionality and enjoyment. Design elements such as tile flooring, hand-scraped hardwood, and stained concrete add to the home's unique character and charm. Floor-to-ceiling windows in the family room provide  natural light, a tranquil atmosphere, and views of the beautifully-landscaped yard and golf-course. The kitchen is well-stocked with everything you'll need to comfortably prepare a home-cooked meal, including bakeware and cookware, and even basic spices to get you started. Each bedroom features large or walk-in closets, and the spacious layout and high-speed internet make it easy to work from home. Centrally located at the end of a safe and quiet cul-de-sac, this home provides ample access to outdoor activities and green spaces like the nearby golf course and Hoblitzelle hike and bike trail. Let us know how we can help you. Contact Us Now.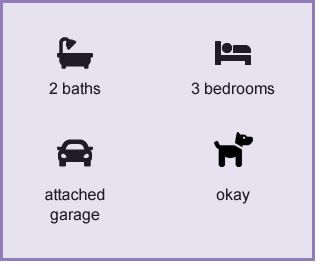 Photo Gallery
Click an image to see full screen view and begin a full tour.
Highlights and Key Features
Gorgeous Views
Family room with floor-to-ceiling windows delivers picturesque views of peaceful nearby greenbelt
Fully Provisioned Kitchen
Well-appointed with modern stainless-steel appliances. Full set of cookware, bakeware, utensils, plates, glassware and more!
High-Speed Internet
Fast 400Mb Internet w/ Google Nest WiFi for optimized work from home and entertainment streaming
Spacious, Elegant Interior
Spacious rooms with thoughtful, professionally-curated design make your stay unique
Bed Linens & Towels
Two sets of premium bed linens per bed. Multiple sets of plush bath and hand towels
Pet-Friendly Green Space
Large fenced backyard with views of the lush nearby golf course and easy access to miles of hiking and biking trails
Privacy & Security
Single-family home on quiet cul-de-sac with attached 2-car garage
Peaceful Location
Quick access to and from local business offices, shopping, and entertainment
All Inclusive Pricing
Monthly lease includes all utilities (water, electricity, heat, A/C, internet) and lawn care
"The house is very comfortable and the location ideal. Safe neighborhood with lots of areas to walk and enjoy the outdoors."
"Everything about the place is great. It's perfect for getting anywhere in Plano, Allen, & Richardson. It really felt like we were home for the 2 months there."
"This home is perfect for transitioning families or short term stays. Clean, quiet neighborhood, plenty of space inside & out and close to shopping."
Availability Calendar
Check availability and submit an inquiry now!
Inquiry & Information Request
Please fill in the form below and submit your inquiry. Or call 469-626-3214.