Elizabeth - Family Friendly on Peaceful Cul-de-Sac
Furnished, One-Story 3-Bedroom / 2-Bathroom Home for Temporary, Short-Term Rental in Plano, TX
You'll feel right at home in this classic, one-story home located on a quiet and tree-lined cul-de-sac in central Plano, TX.
The kitchen is ideal for cooking and baking with its extensive provisioning and modern appliances. Relax in the spacious living room anchored by a new 65" HDTV. The primary bedroom has a King bed, large ensuite and two separate closets. The other bedrooms have Queen beds and large closets. Two sets of linens and soft & luxurious towels are included. With a fenced backyard and access to miles of trails at street end, your pet (dogs welcome!) will be wagging in delight. For exercise, explore the extensive Hoblitzelle Park. For children entertainment, there's a lovely playground within a 5-minute walk. 
Designed to provide a "feels like home" experience during your temporary, short-term, month-to-month stay, let us know how we can help you — Contact Us Now.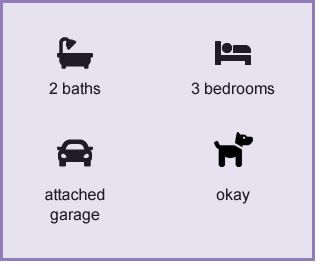 Photo Gallery
Click an image to see full screen view and begin a full tour.
Highlights and Key Features
Tranquil Cul-de-Sac & Park
Tree-lined, quiet cul-de-sac with extensive park trails and playground nearby
Extensively Provisioned Kitchen
Functional design with modern SS appliances and extensive set of cooking and baking items
Pet-Friendly
Large, fenced backyard with area for dog(s) and long trails nearby
Spacious, Open Living Room
Spacious, open living room  w/ 65" Smart flatscreen HDTV
Luxurious Bed Linens & Towels
Two sets of premium bed linens and plush bath & hand towels provided
High-Speed Internet
Fast FIOS with Eero mesh router for optimized streaming and working from home
3 Bedrooms, 2 Bathrooms
Primary with King and 2 closets. Other 2 with Queen beds and closets
Privacy
Security of single-family home with attached 2-car garage and room for 2 cars
All Inclusive Pricing
Monthly lease includes all utilities (water, electricity (Heat, A/C), internet, lawn)
"We can't recommend ANGR properties highly enough! After experiencing a major flood in our home, we had no idea if we would find a suitable place to live with our two dogs while our home was being reconstructed. The home on Elizabeth was clean, and fully stocked where all we needed to bring was our clothes and groceries."
Availability Calendar
Check availability and submit an inquiry now!
Inquiry & Information Request
Please fill in the form below and submit your inquiry. Or call 469-626-3214.